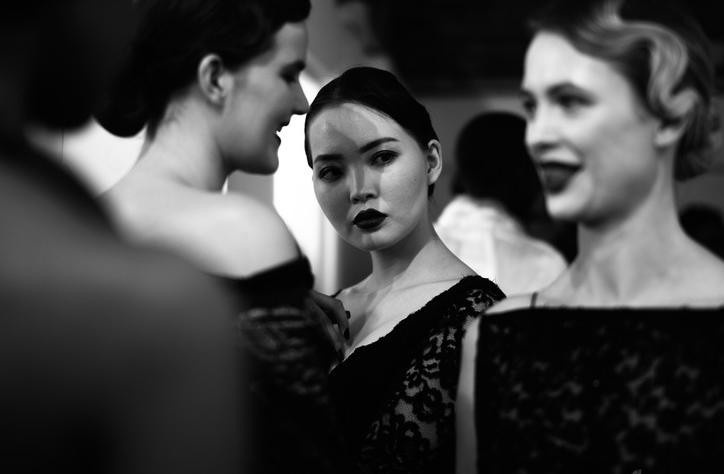 Andrew Smith was hailed a hairdressing hero at London Fashion Week.
Andrew was delighted to head the hair team at the highly acclaimed Chanel Joan Elkayam show at AW London Fashion Week 2017.
 Chanel Joan Elkayam is an international designer to watch. As the youngest ever designer at Paris and New York Fashion Weeks she was awarded New York's Designer Of The Year at the age of 19. This inspirational young lady has seriously grasped the attention of the world's media and fashion influencers and Andrew Smith is her go-to hairstylist who she trusts implicitly to head her backstage teams.  Andrew's attention to detail, incredible creative talent and flawless professionalism has secured him invitations to work with a number of leading international designers as well as sponsorship from high profile professional hair brands including milk_shake, z.one Concept and Hot Tools.
Collection: La Sola Rosa Venue: Hoxton Arches, Shoreditch
Venue: Hoxton Arches, Shoreditch
Inspiration: a female poet & writer Vera Brittain who was lost in love in the midst of war. The collection and presentation represented the emotions portrayed at this time. A fusion of raw beauty, emotion, power and romantic sensuality. Timeless glamour and subtle intimacy Hair
Hair Inspiration: timeless glamour, classic, delicate, sophisticated and ultimately, subtly beautiful.
Hair Team: Andrew Smith sponsored by milk_shake & Hot Tools; Kristina Ainge; The Andrew Smith Artistic Team
Must Have Session Kit: milk_shake Strong Hold Hairspray; Hot Tools Straightening Irons; milk_shake Argan Oil
Hair How To: separate the hair into 1.5inch sections either side of the parting and tie remainder into a low knotted bun at the nape of the neck. Keep hair super sleek, glossy. Using irons create soft, feminine S-Waves that gently flatter the hairline. Take the S Waves around the back of the hair and grip them into the bun
Photography : Rachel Bamford & Simon King