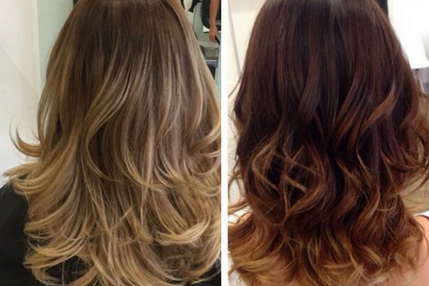 [vc_row][vc_column][vc_column_text]
Balayage hair colouring has such dramatic power, it injects energy and life into tired, dull hair colours and is adored by the world's leading beauty editors!!!
Balayage hair colour is currently the most wanted hair colour in the world!  It is, without doubt, the most requested  colour technique across the globe by celebrities, socialites and girls who simply love their hair to look fabulous!  The clients and colourists at our Hampshire hair salons are no different – balayage  is in huge demand and our teams of colour masters are experts in creating beautiful subtle tones and bespoke colours that will complement your skin tone and enhance your hairstyle!

What is balayage?
Balayage is a French word which means "to sweep" or "to paint".  It is in fact a freehand technique where a colour specialist will apply colour by hand.  There is no use of foils in this technique to ensure that the effects are completely natural, subtle and sophisticated. Think beautiful tones that are created naturally as the sun gently falls down on hair!
Does Balayage require lots of maintenance and salon visits?
This is a seriously low maintenance hair colour!  Regrowth is beautiful and natural and so you will not need to visit the salon for monthly root touch ups!  Keeping your hair healthy, well moisturised and conditioned is a must if you want to keep your colour super-glossy and uber-healthy with a high sheen finish.  Our specialists will guide you on the most suitable home hair care regime for your hair type and colour!
Will this technique work for me?
There is a balayage colour to suit every complexion and every hair length!  At Andrew Smith, the integrity of your hair is our priority and for this reason, we will work with you to achieve your desired result, offering advice on tones that will work with you complexion and of course ensuring that there is limited compromise to your hair.   milk_shake Safe Lightening Complex offers awesome protection during the lightening process.
Regardless of if you have a jaw-skimming bob or you have lush long locks, our bespoke service will emphasise just how gorgeous your hair is!
If you would like to book your next hair colour appointment at any one of our salons, please click here or call us on the below numbers
Fareham 01329 600360 Gosport 023 92258 5749 Waterlooville 023 9224 1212 Southampton 023 8022 4050[/vc_column_text][/vc_column][/vc_row][vc_row][vc_column width="1/2″][vc_single_image image="620″ img_size="large"][/vc_column][vc_column width="1/2″][vc_single_image image="621″ img_size="large"][/vc_column][/vc_row]