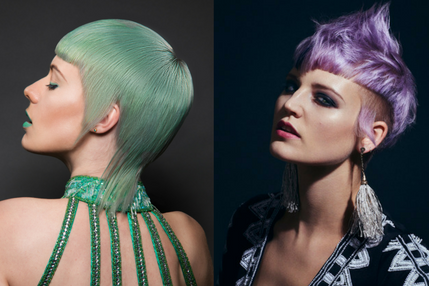 Andrew was invited to predict hair trends of 2017 by the UK's number 1 online hair website UKHairdressers.  Here is what he had to say :
What are the key hair trends for 2017?
Hair next season is beautiful, it's tailored to compliment skin tones and enhance facial features and it needs to be super-healthy! Haircuts and styles should enhance the colour : regardless of if clients go for a super-sleek finish or they prefer tonnes of body and texture, colour should be interesting and full of tone.
What colours are set to be huge?
Balayage is going nowhere! Whatever the length, style and skin tone, there is a balayage colour that can be tailored to suit! As we move into Spring, clients should consider lighter, brighter tones that give a really fresh finish – especially around the face. Regardless of if you want something super subtle or a little more daring, a good colourist will be able to guide you.
Our Rule: Invest in a good treatment and make sure you indulge your hair with it weekly. If your hair is in poor condition you could consider hair extensions to create the lighter effects. Less damage and more hair!
Cool platinum is a statement colour : its iconic, its daring and it's completely 2017! Revolutionary products like milk_shake's Safe Lightener Complex have allowed colourists to push the boundaries and take blondes to another level without compromising the condition. Think Gwen Stefani colour and super-healthy hair!
Our Rule: Invest in a fabulous toner to ensure your blonde stays clean and fresh in between colour appointments.
Colour Bleeds with pastel shades and deeper more vibrant tones are set to be massive next season, clients are becoming more and more daring. As good as a colour may look when you leave the salon, it really is important to ensure you visit a colour specialist for such tones.
Our Rule: Never try this at home and always be prepared to invest in professional products that will consistently keep your colour vibrant and well maintained. Ask your colourist for their expert opinion on how to care for the chosen colour and listen to their advice. There is nothing worse than faded and washed out tones.  We say milk_shake Colour Maintainer Shampoo and Conditioner are the best!
Special Occasion Hair – do you have a favourite look for 2017?
Andrew Smith Signature Signature Lazy Waves never date and work so well for every occasion, if clients want to opt for something slightly more adventorous, we will be encouraging the full on Bardot vibe that was spotted at Anna Sui. There is nothing quite like the classic and iconic beehive to make a high impact statement. For brides that want something more unusual or for clients that are going somewhere special and want an element of drama, this is the look we would be awesome.
Our Rule: keep a loose and unstructured finish but don't forget that hair needs to remain uber-healthy and super shiny.
The Cut – what's your verdict?
The long wavy bob will stay. Statement fringes will make a comeback and long hair that is big, beautiful and effortlessly glam with be as fabulous as always! Versatile short hairstyles are a speciality at our salons and we use high impact colours to really exaggerate the style. Pinks, Mint Greens, Lilacs and Platinum tones and such a beautiful feminine influence. To me, it really isn't always about a trend : it's about what suits the individual!
If you would like to book an appointment at anyone one of our salons in Southampton, Waterlooville, Fareham or Gosport please either call reception or book here.