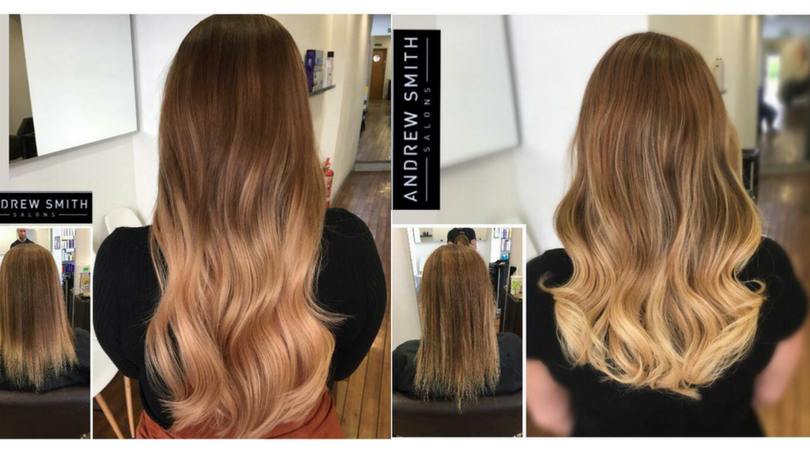 The Hair Of Your Dreams In Time For The Party Season!

You're dreaming of thicker, healthier looking and maybe longer hair just in time for the party season to kick off?  The team of hair extensions specialists at Andrew Smith Salons in Hampshire are able to make you dreams come true and you needn't be fooled into thinking that you need to spend an afternoon  in the salon or the best part of £500 to achieve your dream hair.

The Andrew Smith team are fully qualified Zen Hair specialists and can help you achieve luscious locks within a lunch hour at an affordable price with absolutely no damage to your own hair!  Whether you want hair that even Rapunzel would be envious of or you want a thick, chunky lob that transforms your fine, lacklustre bob, our experts are at hand to help.

Here, we answer the most frequently asked questions about our hair extensions service:

Will hair extensions damage my real hair?

We have carefully selected Zen tape in extension to ensure that there is no tension to existing hair and therefore causing no damage.  You must revisit the salon to have them reapplied or removed.

How long will my extensions last?

We recommend that you revisit the salon every 8 weeks to have them reapplied.  The hair is exceptional quality and if cared for correctly, it will last between 6 – 12 months.

How long will I need to spend in the salon to have them fitted?

You should expect to spend no longer than 1 hours to have a full head of Zen extension fitted.  If you are using the extensions to volumise particular sections of hair, fitting could take anything from 20 minutes.

My hair is very fine and I am concerned that hair extensions would be unsuitable?

Tape in hair extension are completely suitable for fine hair and will not cause any damage.  They will be fitted to look completely natural.

I would like my extensions to look natural, is this possible?

The tape in system allows your extensions to look completely natural in the hair. We can work with all lengths of hair to achieve a variety of looks.

I don't have a lot of time for high maintenance hair, how will I cope with extensions?

Zen extensions are very easy to care for when away from the salon, in fact the majority of our extensions clients comment that they can't even feel that they have them in.  Our specialists will give you a detailed explanation of how to care for your hair at home and will advise on the best products to use to ensure they are kept healthy and low maintenance.

Can I still colour my hair whilst wearing hair extensions?

We always recommend that you visit a colour specialist to achieve a perfect colour and at Andrew Smith we are happy to apply and colour your hair whilst you are wearing hair extensions.

How much will I need to pay for my extensions?

Prices vary depending on the length and amount of volume that you desire.  For a full head of Zen extensions supplied and fitted by one of our qualified specialists you could expect to pay between £230 and £305.  Please remember that you hair can last anything up to 12 months if well cared for – you would need to revisit us every 8 weeks for re tapes.

If you are considering hair extensions, please visit us for a no obligation consultation and we will be able to give you an accurate quote based on your individual desires.