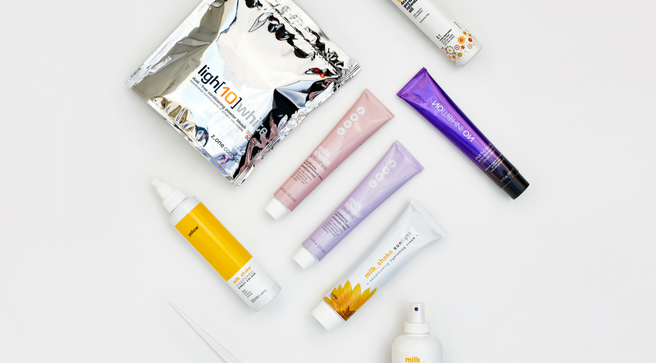 [vc_row][vc_column][vc_column_text]
Hair Colouring at Andrew Smith
Our team of colourists at Andrew Smith are masters of their trade. All our colourists have been expertly trained to the highest level and each and every one of them is passionate about working with the very best colour products available.
After considerable research and testing, Andrew and the team opted to work with milk_shake colour and offer bespoke hair colouring techniques using their awesome selection of professional products. Using milk_shake, we are able to create colour brilliance with guaranteed duration and high grey hair coverage for natural, healthy and extraordinary results.
milk_shake Creative Colour
Why do we believe that milk_shake Creative is the best permanent hair colour system for your hair?
milk_shake Creative offers colour brilliance, sublime brightness and duration along with high grey hair coverage. After experiencing milk_shake Creative Colour you will see a natural, healthy and extraordinary result!
Why do we believe that milk_shake Smoothies are the best semi-permanent hair colour for our clients?
milk_shake smoothies are simply lush! Deliciously smelling and incredibly unique. Each active ingredient is carefully selected for its long-lasting effect on the hair's health and appearance, leaving it manageable, vibrant and radiant.
The delicious-smelling NEW Smoothies range offers 41 mixable tone on tone colours in a conditioning, ammonia-free cream that gives brilliance and vitality to hair colour. Fruit, milk, organic honey and cocoa extracts characterise each tonal series and maximise hydration, with equivalent natural fragrances for a delicious colour experience.
[/vc_column_text][/vc_column][/vc_row][vc_row][vc_column][vc_column_text]If you would like to book your next colour service at any one of our four Hampshire hair salons, please click here [/vc_column_text][/vc_column][/vc_row]