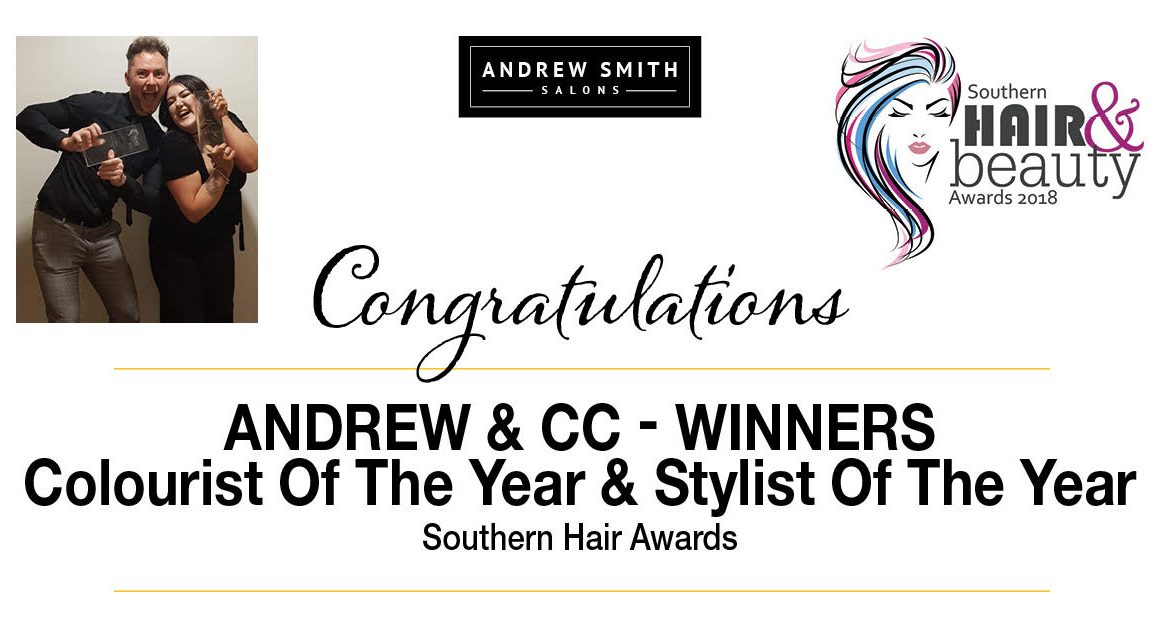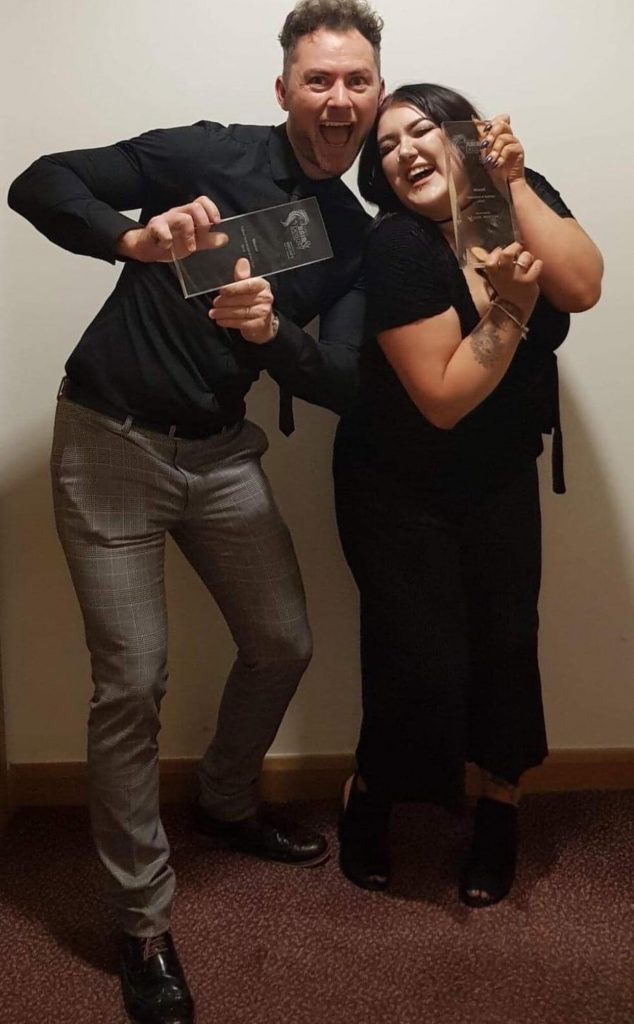 Andrew Smith and CC McNamee were ecstatic when they were announced as winners and industry leaders in two individual awards at the Southern Hair and Beauty Awards Ceremony 2018
It was less than 2 years ago that Andrew Smith entered his first hairdressing award and only 18months ago that CC joined the Andrew Smith Salon Group, so, as Andrew and CC sat together amongst their team and the finest hairdressers in the region they were overjoyed when they heard their names announced as winners at the highly acclaimed Southern Hair & Beauty Awards.  This is absolutely the icing on the cake for another incredible year for the Andrew Smith Salon Group.
The team headed to the glamorous awards night without any expectations.  The awards every hairdresser wanted on their shelves were  Hair Stylist of the Year (Andrew was the current title holder) and Hair Colourist Of The Year.  Andrew and CC separately wowed the judges with their inspirational and creative entries and beat off tough competition to take two coveted trophies home to their Fareham salon.  Andrew is 2018's Southern Hair Colourist Of The Year and CC, Southern Hairdresser Of The Year 2018.
CC spoke of her win: 'I am so over the moon and thrilled to have won this award! I've really pushed myself this year and it's amazing to get the recognition. Definitely my best achievement to date! Can't wait to see what 2019 brings. I'd like to thanks Andrew for his ongoing support and Edward Hemmings for giving me the confidence to bring my passion to the stage'
Andrew added: 'Winning these awards means so much to us, especially as they are regional which is so important for our business.'
Educational development and ensuring his ambitious team have an abundance of opportunities to pursue the hairdressing careers of their dreams is critical to the growth of Andrew's salon business.  He was delighted to learn of CC's success and believes her passion, commitment and love of hairdressing combined with her loyalty and talent are key attributes that will see her flourish in the industry.
It was certainly a champagne-fuelled evening on Saturday night but, 2019 is already a huge focus for Andrew as he concentrates on Education, his ambassador roles with milk_shake and Corioliss and lots of exciting shoots, front covers and session work.  CC is most certainly one to watch and whilst she is still early on in her journey, she's likely to have an incredible 2019 both locally and within the industry.
It is such an exciting time and we absolutely love the work we do for the hairdressing industry and at fashion events but ultimately our key focus will always be ensuring we deliver hairdressing excellence to all our salon guests.