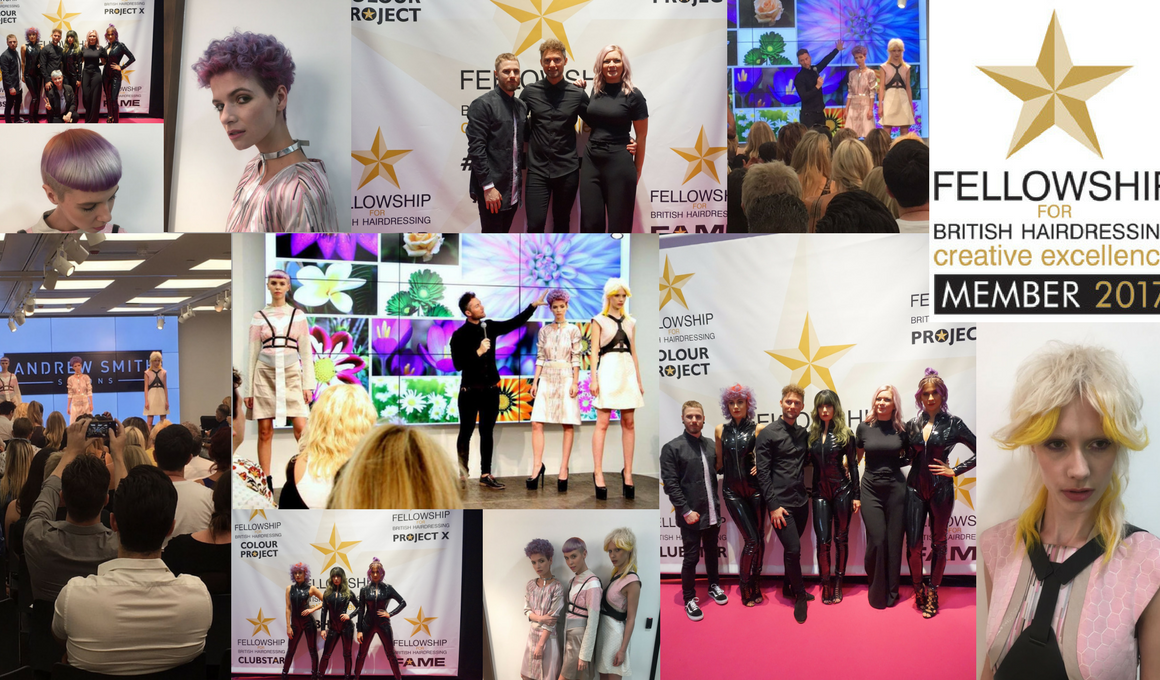 At 35, some may say that Andrew Smith is a little 'mature' to be embarking on a journey as 'an upcoming' with The Fellowship Of British Hairdressing but oh how we disagree!

In February this year, Andrew restructured his business to allow himself more time to enjoy his passion – getting creative.  Whilst his Hampshire based salon group and team worked away expertly, Andrew knew he needed to fulfil his personal dreams in a more creative way.

Andrew threw himself into the open arms of The Fellowship Of British Hairdressing and could not be more delighted with how the year has unfolded and the awesome opportunities he has had.  He doesn't hide the fact that he began a little sceptical – would he fit in?  Was he too mature to take part?  Would The Fellowship be cliquey?  How would it work as he is not London based?  These skepticisms were quickly answered on Andrew's first Members Night – everyone was welcoming, positive and incredibly encouraging.  He certainly wanted to return for more!

Firstly, Andrew took part in two bi-monthly Members Nights, a platform that invites members of the Fellowship to present their vision and trends for the season ahead to other members.  Andrew says 'The first event was a great introduction into how things work and i was so appreciative of the honest, constructive and encouraging feedback'  he continues 'I was absolutely delighted when Events Director, Ann Herman contacted me to invite me to present at another members night and the feedback I received from industry legends including President Karine Jackson and Mark Woolley of Electric Hair was phenomenal and such a boost to my confidence.'

Shortly after Andrew's presentation, he received a call from Ann Herman.  He was invited to showcase a Live Show on The Fellowship Stage at Salon International.  'I was ecstatic….one of my goals had become reality in a very short space of time thanks to the outstanding support of this inspirational organisation and in particular Ann and Jo Martin'.  

For Andrew, the opportunity to present his creativity alongside his team at such an important event was truly an honour and, of course, a great pleasure.  Andrew and the Andrew Smith Art Team took to The Fellowship Stage with their models and presented an excellent show that was inspired by Marine life:  each member of the team presented their look and spoke of how they had worked with milk_shake Direct Colour to create bespoke and beautiful colours for their models.  To the delight of the audience, 3 incredible looks were styled using a variety of Hot Tools styling equipment before the end results were showcased during the most sensational finale where all the models took to the stage for an insane dance off!

As Andrew walked off the stage at Salon International, he summed up just why The Fellowship Of British Hairdressing is a fantastic opportunity for any aspiring hairdressing talent!  'Wow!  That was an incredible moment whilst I was standing up there on that stage, I realised just how much my dreams have really come true in less than 12 months of pursuing them.  The show was just awesome and there was such a crowd that appeared to watch – I feel emotional and incredibly proud.  Sam and Emma were amazing – can you believe that Emma has only been hairdressing for 2 years?' Andrew continues 'I really can't thank the Fellowship team enough for all the support and encouragement that they have given me.  In particular, Ann Herman who has been so inspirational and honest with her feedback and guidance and Jo Martin, The Chairman for her constant support.  If there are other hairdressers out there who are dreaming of becoming involved in such events then I really can't recommend The Fellowship enough!'  

Andrew will be back at The Fellowship Stage in London at February's HJ Live event to kick start another fantastic year of British Hairdressing, he will then head to Manchester to represent Hot Tools at Pro Hair Live.