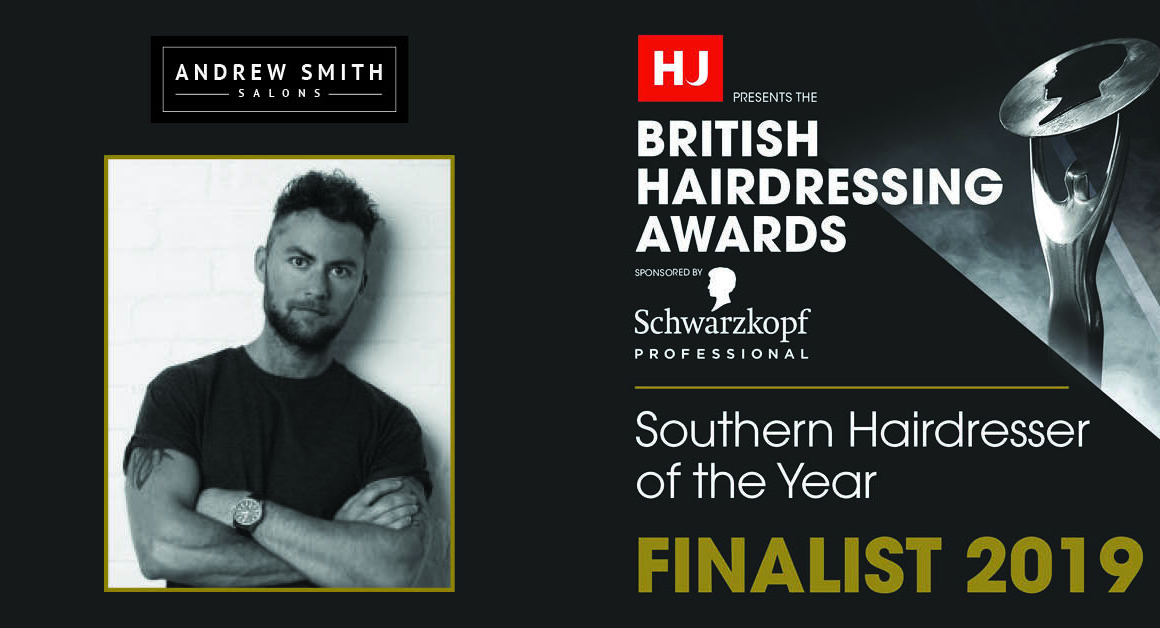 'Andrew Smith from Fareham has secured his status as one of the UK's most outstanding hairdressers after being confirmed as a finalist in the prestigious HJ's British Hairdressing Awards 2019, sponsored by Schwarzkopf Professional'
'These are the words I've dreamt of hearing since I began my career in hair over 20 years ago' says Andrew.
We're delighted to announce that the owner & director of our Fareham, Waterlooville and Gosport salons, Andrew Smith,  impressed more than 100 hair industry judges to be named one of just six stylists shortlisted for the Southern Hairdresser of the Year category of The British Hairdressing Awards – which welcomed entries from aspiring hairdressers across nine English regions (Berkshire, Buckinghamshire, East Sussex, Hampshire, Isle of Wight, Kent, Oxfordshire, Surrey and West Sussex).
Andrew's creative hairstyling and exceptional skill in cutting and colouring ensured his photographic work stood out from the rest. Now, Andrew will submit another four images of his work in the hope of catching the judges' imagination and hearts further with his expanded trend-led collection. This artistic hairdressing will put him in the running to be named Southern Hairdresser of the Year at the big ceremony – the Oscars of the hair world – HJ's British Hairdressing Awards in November 2019.
Delighted with his achievement, Andrew said: "The calibre of hairdressing recognised in these awards is widely known, and I'm very proud to have done so well. There are many amazing hairdressers in my region and I'm thrilled to be nominated."
Commenting on the announcement, Jayne Lewis-Orr, executive director of HJ's British Hairdressing Awards said; "To be named as a finalist in the Southern Hairdresser of Year category highlights just how exceptional Andrew is. His hairstyling demonstrated fantastic skill and vision, and rightly gives him the acknowledgement as one of the UK's best hairdressers."
"Britain has long had a world-class reputation for trend-setting in the hairdressing industry, and Andrew proves that this renowned creativity and excellence is still at the heart of the British hair scene."
We have everything crossed for the grand final at The Grosvenor Hotel, Hyde Park, London but to be named as a finalist amongst such an elite group of hairdressers is an honour in itself.